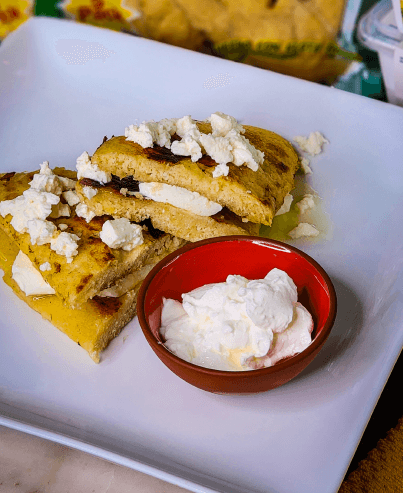 Salvadorean Riguas
: El Salvador
Side Dishes
Authentic Classics
Quick And Simple
To Go
15 mins
undefined: Beginner
1 package of Mama Lycha Riguas (Salvadorean Corn Cake)

1 Mama Lycha Queso Fresco (Fresh Cheese)

1 Mama Lycha Venezuelan Style Sour Cream
Place the Riguas in a frying pan over medium heat and cook for 3 to 4 minutes on each side.

When they are done, serve them with a little butter.

Add 2 slices of fresh cheese and place another rigua on top to make a "sandwich". 

Garnish with more fresh cheese and Venezuelan Style Sour Cream.
Mama Lycha's riguas (Salvadorean Corn Cake) do not require additional cooking. Just thaw them out and put them in the pan to heat up, or let them brown as you like.