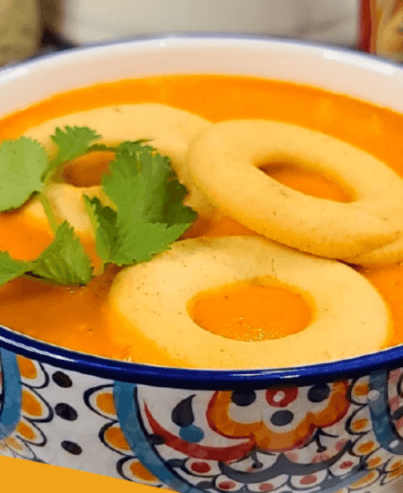 Cheese Soup
: Nicaragua
Side Dishes
Authentic Classics
30 mins
undefined: Intermediate
½ cup Mama Lycha sour cream

1 package Mama Lycha corn dough

1 tablespoon of achiote Mama Lycha

1 package of Mama Lycha doughnuts

1 package of Mama Lycha semi-hard ground
cheese

4 tomatoes, 4 chili peppers, 1 onion and 1
garlic



Place enough water in a pot to cover all the soup ingredients.  When it is boiling add the cheese, tomatoes, garlic, onion, and chiles with the achiote and salt and let it boil for 5 minutes.

Prepare a separate cup of corn masa with the milk until it thickens a little.

After 5 minutes of cooking the broth, add the masa with milk and sour cream. Wait 5 more minutes.

When ready to serve, accompany the dish with Mama Lycha's doughnuts, placing them on top and around the soup.



The idea of accompanying the soup with doughnuts is that you add them
and eat them at the same time as the soup.