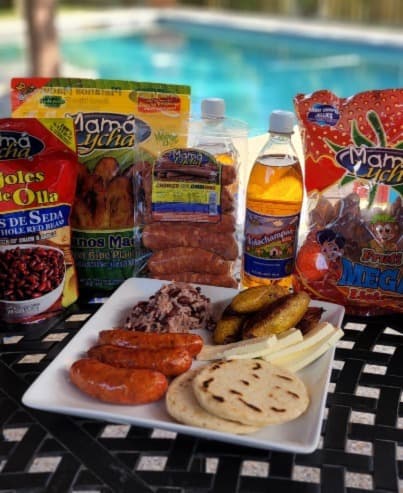 Salvadoran Cojutepeque Chorizo With Casamiento And Ripe Bananas
: El Salvador
Side Dishes
Authentic Classics
Quick And Simple
To Go
60 mins
undefined: Intermediate
2 cups of Mama Lycha red beans

2 cups of Mama Lycha cooked long grain rice 

3 Mama Lycha ripe plantains

1 slice of Mama Lycha soft-hard cheese

2 handmade tortillas Mama Lycha

2 cojutepeques Salvadoran chorizo sausages

2 tablespoons vegetable oil

¼ cup diced onion, 1 bell pepper



Heat a skillet over medium heat and add the onion, bell pepper and beans for a few minutes.

Add the bean broth and wait for it to boil, then add the rice and stir well until it has the texture you like.

Place the chorizos on the grill or in a frying pan until they are well cooked.

In another frying pan heat the oil and place the ripe plantains.

Serve the casamiento with the chorizos, cheese, ripe plantains and tortillas.



Pair this dish with one of Mama Lycha's sodas: Kolashampan Soda, Banana
Bang or Pinix Soda.