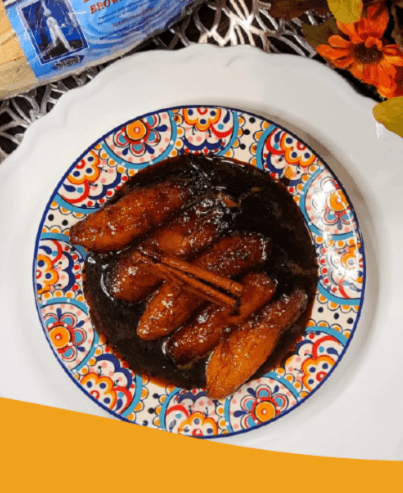 Caramelized Sweet Ripe Bananas
: Colombia & Venezuela
Desserts
Authentic Classics
Quick And Simple
60 mins
undefined: Beginner
3 Mama Lycha ripe bananas 

4 tablespoons Mama Lycha butter

1 cup semi-sweet wine or grape juice

1 tablespoon Tabasco chipotle sauce



In a frying pan, heat the butter and add the plantains. Fry them on each side until golden brown.

Separately in a small saucepan, put the panela with the wine, pepper, cloves, and cinnamon. Cook over low heat until the panela is completely dissolved and add the tablespoon of chipotle sauce. Let it simmer for a moment more and taste the mixture, adjust the amount of spices and sauce until you are satisfied with the mixture.

Remove the spices from the syrup, i.e. cloves, seeds, and cinnamon.

Add the syrup to the pan with the plantains and cook over medium-low heat for about 30 minutes or until you see that they are caramelized.



Serve the dessert with fresh cream, cheese, or ice cream for a contrast
of flavors and textures.