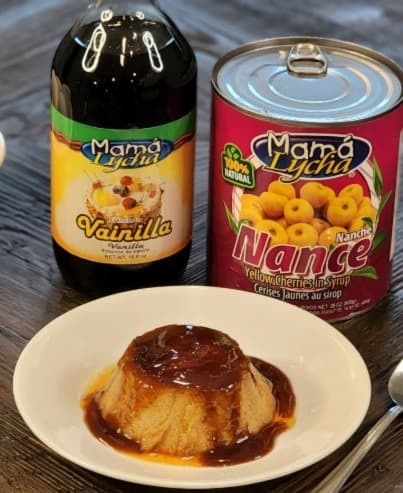 Nance Flan
: México
Desserts
Quick And Simple
To Go
60 mins
undefined: Beginner
1 Can Nance Mama Lycha in Canister 

1 tsp Mama Lycha Vanilla

1 can condensed milk

1 can evaporated milk

2 egg yolks

4 eggs

Pinch of cinnamon

1 tsp sugar (Optional)



Preheat the oven to 150°C.

Open the can of Mama Lycha Nances and place them in a blender. Blend until pureed and strained. You will obtain a silky liquid consistency. Set aside.

In a saucepan, melt the sugar.

Meanwhile, in a blender, place the evaporated milk, condensed milk, nance puree, cinnamon, egg yolks and eggs, and Mama Lycha Vanilla. Blend until a homogeneous mass is obtained. 

Pour the melted sugar into a flan mold and wait for it to cool. Add the custard mixture.

Place the mold in a bain-marie and bake at 150°C for 35 minutes. Let cool, then refrigerate until ready to serve.



If you have the possibility, use individual portion molds to make it
easier to serve it to your guests.