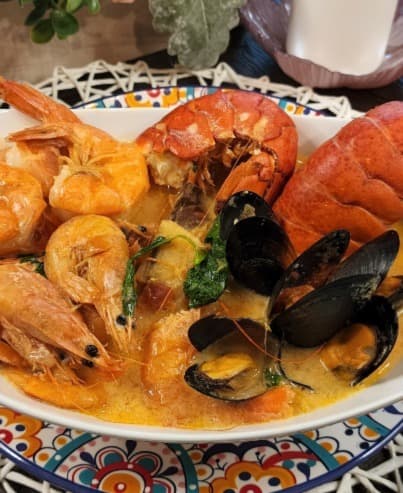 Mariscada From El Salvador
: El Salvador
Main Dishes
Authentic Classics
60 mins
undefined: Expert
1 package of Robertoni Mama Lycha Shrimp

1 package of Mama Lycha shrimp

1 package Mama Lycha snapper

1 package Mama Lycha sea bass

1 jar of Mama Lycha Salvadorian cream 

2 shrimp consommés (soup)

20 cups of water

2 leek stalks, 2 tomatoes, 3 celery stalks, 1
head of garlic

⅛ ounce of white pepper and a handful of
coriander.



Cut all the vegetables into julienne strips and place them in a pot with the consommé (soup), chopped garlic, tomato and water.

When you see that the water is boiling, add the shrimp, sea bass and snapper. Cook everything for about 6 to 10 minutes.

Serve the seafood and add lemon, pepper, Salvadoran cream and cilantro.



The best thing about a mariscada is that you can add the protein you
like the most and replace any of this recipe. You can add the tail of small lobsters,
for example.