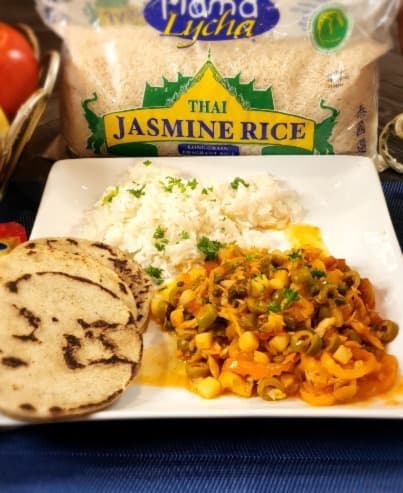 Codfish Vizcaína Style (Veracruzana)
: México
Main Dishes
Authentic Classics
60 mins
undefined: Expert
2 pounds of Mama Lycha dried cod 

1 package Mama Lycha tortillas

1 large white onion, 2 cloves, 3 garlic cloves

2 tablespoons capers, ¾ cup olives, 3 jalapeño
peppers, 1 cup olives, 2 tablespoons capers, ¾ cup olives, 3 jalapeños

3 chiles paprika ¾ kilos of roasted tomatoes

¼ cup oil, salt, and pepper to taste



Fill a large skillet with water and add the cod with half of the onion. Turn on medium heat and cook for a few minutes until you see the water boil. Then, remove the pan from the heat and wait until it cools down to remove the fish bones and shred them.

Soak the almonds in a bowl of hot water for 20 minutes to peel them. Then heat 2 tablespoons of oil in a frying pan to fry the almonds until light golden brown.

Roast the chili and then soak it in hot water for 20 minutes to soften it. At this time you can also roast the tomatoes and cook the potatoes.

Place the fried almonds, roasted tomatoes, softened chile, cloves, garlic cloves, and ½ chopped onion in a blender and process until you have a very smooth sauce.

Heat 3 tablespoons of oil in a frying pan, add the cod, and let it cook for 5-8 minutes. 

Add the sauce you made with 2 cups of water to a skillet and lower the heat to cook the sauce for 10 minutes. 

Now add the heavy and the potatoes to the same pan as the sauce and leave them
for 5 more minutes. Then add the peppers, olives, capers, and chiles. Add salt and pepper and serve with the tortillas.



When making any recipe with fish, it is best to soak the fish in water two days before preparation to soften it and remove its saltiness. Then, on the day of preparation, drain the water and rinse the fish very well to remove as much salt as possible.