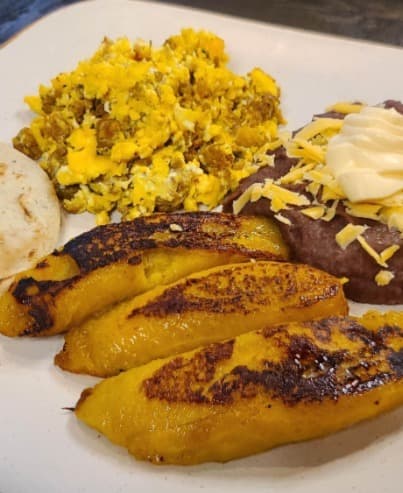 Protein - Packed Breakfast
: El Salvador
Appetizers & Snacks
Authentic Classics
30 mins
undefined: Intermediate
1 Mama Lycha cojutepeque chorizo sausage

1 egg

1 cup Mama Lycha whole red silk beans

1 avocado

1 cup Mama Lycha ground cheese

1 package of Mama Lycha frozen ripe bananas 

Mama Lycha butter to taste

Mama Lycha corn tortillas to taste






Prepare the beans with water and salt, or follow your traditional recipe.

In another pot, cook the chorizo and egg over low heat, and stir well.

Meanwhile, heat the ripe plantains in a frying pan with oil.

To serve, spread the corn tortillas with the butter to warm them, then fill them with the beans, eggs with chorizo, plantains, and avocado.



Use just a little bit of salt in the preparation of the beans and scrambled eggs so that when you mix all the ingredients, the dish doesn't taste salty.